Posted on September 2014 By Speller International
​Last week several members of the Speller International team headed to Sydney for the SAUG Sydney Summit. Having been proud sponsor of the SAUG since 2005, we always find it an excellent event for seeing familiar faces, meeting new people in the SAP community and keeping up to date with the latest technology trends. As new editions to the Speller team Chris Oughton and Matt Leak found it an engaging and educational couple of days. They both liked the fact that they were able to meet a large cross section of people from the SAP community in a relaxed and friendly environment giving them a greater insight into where and how different individuals and companies utilise SAP.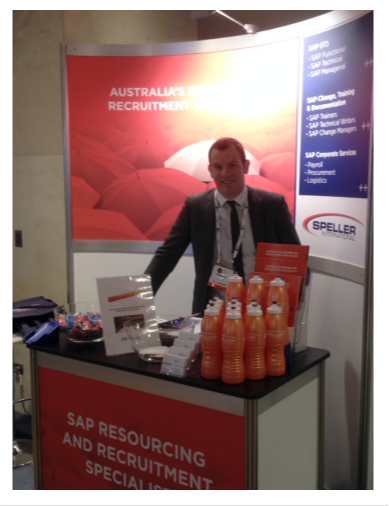 As Spellers NSW dedicated Account Manager Jack Bland found this an excellent chance to learn more about the current NSW SAP market place and meet numerous new prospective candidates and clients. It was also a good chance to share Spellers successes especially within social media where we feel we are adding value outside of the usual "recruitment" services.
As a veteran of the SAP community Nick Speller found it an excellent opportunity to catch up with both familiar and new faces alike and continue building his network whilst keeping abreast of the ever changing SAP environment.
It was good to see so many different sponsors and we enjoy the friendly atmosphere between competing companies. There was some down time for the sponsors during the seminars, the perfect time for a round of "Speller Bowl"! Collating our promotional merchandise into a ten pin bowling competition, there was much friendly banter to be had between sponsors and some of the attendees.
And finally as some of you will know, we were running a competition for a $250 restaurant voucher, to enter all you had to do was put a business cards in the bowl. This was drawn out of the hat on Tuesday afternoon and the winner is… Jason Prebble! Well done Sir, we hope you have an enjoyable meal with regards from the Speller team!
We're looking forward to catching up with all the Melbourne SAUG members at the conference on November 12.