Understanding Ariba: The Worlds Largest Business Commerce Network
Posted on October 2015 By Speller International
​
The second presentation in our "Emerging Technologies" series was on Ariba, presented by long-time friend of Speller, Anil Guneratne. With nearly 20 years SAP experience, Anil came from a consultancy background with PWC both in Australia and abroad before joining Visy as the General Manager for their Enterprise Solutions. In 2011, he then moved to SAP Australia where he was a Client Engagement Partner and now holds the position of Customer Engagement Partner for Ariba, an SAP company. We were fortunate enough to steal a bit of Anil's time to get an overview on in the ins and outs of Ariba.
The Ariba office in Australia is broken into 3 teams:
Sales and pre-sales

Post-sales – the Ariba Customer (the team Anil is part of)

Consulting for deployment – limited to approx. 20ppl in total. Ariba also engages partners and offshore teams (where applicable/appropriate).
Even as Anil talked through the stats with us on the size and scale of the world's largest business network, based on his own presentation which was only a few months old, he was having to revise statistics – for example, the presentation quoted $600 billion in annual commerce, but just a few months on and it's now in excess of $750 billion – a clear demonstration on how quickly Ariba is growing. There are over 1.6 million trading partners registered on Ariba and more than 165 million catalogue items for Buyers to peruse.
​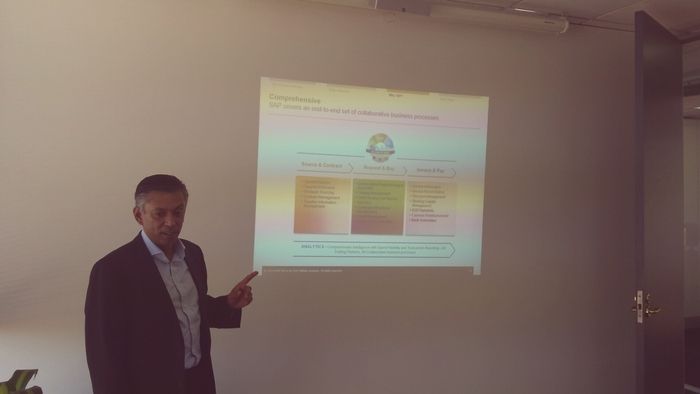 Key takeaways:
Known as the 'network of networks' for B2B that links buyers and sellers together, allowing them to perform quick easy transactions that require minimal human handling

Customers can buy the solutions they require rather than the full 'package' they might not need

Key criteria when implementing is getting the business process right from the get-go

Important to map out the process when implementing each solution, not just the internal process but also how to communicate the change to suppliers for their enablement plan

Suppliers can register with no annual fee, and just pay for responses to buyers' RFI/RFQ as they occur

For Buyers it allows control over approved Suppliers and price limits on products and speeds up the invoice processing time, saving money

For Suppliers it allow for quicker processing of goods/services and receiving faster payment

Is used for all business needs – from stationary through to resourcing requirements
To learn more, please visit the Ariba website or watch the YouTube video: